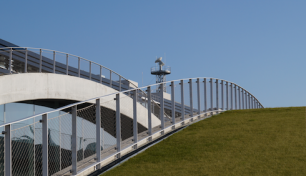 RESEARCHERS & WATER MANAGERS PREPARING CITIES FOR A CHANGING CLIMATE / CHERCHEURS ET GESTIONNAIRES DE L'EAU PRÉPARENT LA VILLE POUR LE CLIMAT EN ÉVOLUTION
École des Ponts ParisTech (Bâtiment Coriolis, Amphithéâtre Caquot)

6-8 av. B.Pascal, Marne-la-Vallée, France

The EU INTERREG NWE IVB RainGain project has focused on recent remote sensing technologies to achieve a finer urban water management and to build up resilience to weather extremes and climate change. The RainGain conference will address all the issues related to high-resolution rainfall measurement, nowcasting and hydrological modelling, as well as their advanced applications to urban water management and stakeholder's capacity building.

Le projet européen INTERREG NWE IVB RainGain a mis l'accent sur les récentes technologies de télédétection pour parvenir à une gestion de l'eau en ville plus précise et pour développer la résilience face aux temps extrêmes et au changement climatique. La conférence RainGain abordera toutes les questions liées à la mesure à haute résolution des précipitations, la prévision à court terme et la modélisation hydrologique, ainsi que leurs applications de pointe pour la gestion des eaux urbaines et le développement des capacités des acteurs.

Confirmed invited speakers /

Intervenants invités et confirmés: Antoine Frérot

(CEO, VEOLIA), Alain Bénichou (CEO, IBM France), François Bertiere (CEO, BOUYGUES Immobilier),

Jacques Tavernier

(Union des syndicats de l'industrie routière de France),

Stephen Garvin

(Resilience Center Director, Building Research Establishmen Ltd, UK),

Roland Nussbaum

, (Mission des sociétés d'assurances pour la connaissance et la prévention des risques naturels), Andrea Tilche (European Commission, DG Research and Innovation) , Philippe Courtier (Ministère de l'Ecologie, du Développement Durable et de l'Energie), Colonel Frédéric Lelièvre ((Zone de défense et sécurité de Paris, vice-chef d'état major), Tsuyoshi Nakatani (NIED, Japan), Jonathan Carr-West

(LGIU, UK), Hervé Cardinal (SIAVB, Directeur des services techniques)John Jacobs (Rotterdam City), Hervé Cardinal (SIAVB, France),Geoff Austin (Auckland U., New Zealand), Dong In Lee (Pukyong National University, Korea), Shuan Lovejoy (McGill U., Canada), Cedo Maksimovic (Imperial College of London, UK), Herman Russchenberg (TU Delft, the Netherlands), Moore Robert (Wallingford, UK), Uijlenhoet Remko (Wageningen U., The Netherlands), Nakatani Tsuyoshi (NIED, Japan)…

from 8th to 9th June at 12h30 / du 8 au 9 juin à 12h30

on 9th June from 14h / le 9 juin à partir de 14h

We will welcome about 200 participants from all the continents. LEARN MORE about the organisations that will be represented. / Nous accueillerons 200 participants de tous les continents. EN SAVOIR PLUS sur les sociétés et

organismes représentées.